Sturgeon Fishing
Sturgeon fishing in Vancouver has grown into a world class attraction as tales spread of epic battles with these giant, prehistoric looking fish. Every year anglers make the journey to the Fraser Valley to search for an encounter with these trophy fish, but one river is forgotten and overlooked. And that is how we like it.
Sturgeon fishing near Vancouver on the Pitt River and Pitt Lake is an adventure that anglers never forget. We fish the clear waters where the lower Pitt River flows into the deep lake. This is a far different experience than fishing the muddy, fast flowing, often crowded waters of the Fraser River. The Pitt River is little known to fishermen, but we know it to be the home of some of the biggest sturgeon on the planet.
The British Columbia white sturgeon is North America's largest, most exciting freshwater fish. They reach 12 ft and more in length and can weigh more than 1000 pounds. The fish live for up to 150 years. The sturgeon, as they follow migrating salmon, move up the Fraser and go into the lower Pitt river and Pitt Lake. Studies have shown that the sturgeon caught and tagged in the Pitt do not move much as Pitt lake is incredibly deep and provides excellent winter hibernating holes. The summer brings millions of salmon into the Fraser River to spawn in local tributaries and the upper Pitt River is where many are headed. Sturgeon rely on these salmon as a major food source and must feed on them to survive the winter months.
Spring brings the annual migration of eulachon, a smelt that sturgeon love to feed on. Most sturgeon have spent the better part of the winter hibernating in their deep winter holes, many in Pitt Lake and when the eulachon arrive, they emerge – aggressive and ready to feed. If you are planning to fish for these great sturgeon between May and November the Pitt is the place to be.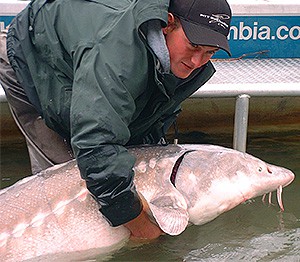 Our team of guides are known as some of the best anglers on the river. We depart daily from Grant Narrows Regional Park. It is the closest departure point for sturgeon expeditions from Vancouver. Downtown hotels and Vancouver International Airport are only about a 30 minute drive from where we launch. We supply a private guide and jet boat for each group and we supply all the specialty tackle that is needed to hook and land these amazing fish. Lunch can be arranged or you can take a break from fishing and ask your guide to stop in at the Gillnetter Pub, a favorite meeting place for fishermen that is just a short boat ride from the fishing grounds.
WHY YOU SHOULD BOOK WITH US?
Location, location, location! We know there are many companies out there in the Fraser Valley, but we are the only guiding outfit located right on the Pitt River. This is our home water and we know it better than anyone. There are rarely other boats where we fish, no crowds, and we are surrounded by incredible scenery, with the Coast Mountain Range as a dramatic backdrop.
Our guides are focused on making your trip the fishing adventure of a lifetime. They are dedicated, courteous and professional. And there is nothing they love more than putting a guest into a really big fish. When you see one of these legendary sturgeon break the surface, and feel the surge of power as they run for the depths, you will know why fishing legends are being born on the Pitt River.
Our boats are outfitted for your safety, meeting rigorous Coast Guard standards and all our guides are Swiftwater Rescue Certified.
We work closely with Pitt River Lodge, at the north end of Pitt Lake, and can arrange combination packages that include sturgeon fishing with salmon and trout fishing on the wild upper Pitt River.