Trout Fishing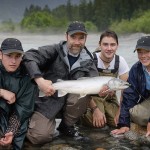 Fishing Guides Vancouver offers you the best trout angling you will find in Southwestern British Columbia.
Our team of professional guides will take you to the best water Vancouver has to offer. We target steelhead, cutthroat trout, bull trout, Dolly Varden and rainbows year round. Our favorite water is on the upper Pitt River, which offers great fishing experiences in every month of the year. Our guides will give you access to some of the best wild trout fishing areas on the river, in terrain so rugged you will think that you are fishing in Alaska.
The Pitt is one of British Columbia's best kept secrets, even though it is located almost at Vancouver's back door. Located just 40 minutes drive from downtown, this isolated location has no road access and can only be reached by helicopter, float plane or boat. Difficult access means no crowds. The upper Pitt River is located at the North end of Pitt Lake, one of the largest tidal lakes in North America. The resident trout are all wild stock – and incredibly beautiful. Good populations of resident trout and sea-run Char are in the river year round. Approximately 40 miles of river awaits you.
The Fraser River is host to a run of sockeye salmon that boasts the biggest fish on average for that species. Want a world record sockeye on the fly? This is a good place to start. The sockeye enter freshwater on their spawning run when they turn into the brackish waters of the Fraser, near Vancouver International Airport. They race upstream about 40 kms to Pitt Lake, cross that body of water and enter the upper Pitt River. As they move upstream, schools of rainbows, bull trout and Dolly Varden follow.
BULL TROUT in the upper river migrate back and forth to the Fraser River estuary – and these sea run specimens are big and mean. The Pitt River has the largest bull trout run in southwestern BC. And often they are wildly aggressive fish. Our guides aren't kidding when they tell you at the start of the day: "If we run into bulls. Make sure you hang on to your rod."
The Pitt's bulls range in size from 3-18 lbs and average around 4-7lbs. They hammer a fly and use their large size and strength to give you a fight you won't soon forget. The sea run fish go out to the ocean for 2 – 3 months and return at the end of May when they are at the peak of their size and strength.
Bull trout typically hold in 2 to 4 feet of water about walking speed – in other words, perfect fly water – and when hooked they put up an incredible fight, racing off into fast water. We recommend at least a 7-8 wt rod for these powerful fish. The fly we recommend is a weighted leach or crystal bugger, in larger sizes. Best time of year: June 1st – Aug 5th or Nov. 1st – March 30th
RAINBOW TROUT are resident in the system year round and are one of the most acrobatic fish. They take powerful runs, love to leap, and are always up to a good battle. They range in size between 10 to 24 inches (1 – 5 lbs) and usually average about 14-18 inches. The best time to fish for rainbows is August 15th to the end of September when The rainbows move to the lower part of the river and stack up as they feed on the excess sockeye eggs that are plentiful in the river at that time. Once the sockeye eggs are over the rainbows switch to surface feeding, and dry fly fishing gets very good from Oct 1 until the end of November. If you are looking for large numbers of large fish, enjoy fishing egg patterns & streamers behind spawning salmon, Sept & early Oct. is the time for you. Plenty of hook-ups, an abundance of wildlife and a wonderful experience you will not forget. Best Time of Year: Aug 15th- Sept 30th. Dry Fly Oct 1st – Nov 30th
CUTTHROAT TROUT are available 12 months of the year. They are a very scrappy fish that show an incredible ability to shake the hook. Although challenging to land, cutthroat trout are very aggressive feeders, allowing anglers a wide variety of choices when it comes to presentation and choice of equipment. Deep drifted nymphs or streamer patterns swung down and across are good.
STEELHEAD are considered to be one of the most elusive of all North American game fish, and when hooked put up a battle second to none. These fish aren't easy to find, but are worth the effort. The Pitt River has a small run of some of the most beautiful steelhead you will ever see, anywhere. You will not put up big numbers of these fish, but those that you do catch will be memorable. Best Time of Year: Feb 1st – April 15th.
Join Fishing Guides Vancouver for an exciting day fly fishing on a remote river so diverse and beautiful you will think you are in a different part of the world.